About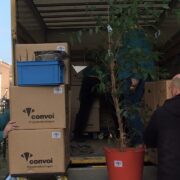 8th of march 2019 (re)construction works start at Drift 10. Therefore, 9th of march 2019 the Digital Humanities Lab will move to Kromme Nieuwegracht 80, rooms 2.02 and 2.03.
Everything else, like the consultation hours (Wednesdays 10-11 and Thursdays 15-16) remains unchanged.
About the Digital Humanities Lab:
The Utrecht Digital Humanities Lab aims to further the study and development of digital methods and technologies for research and teaching in the humanities. The Lab's working area is not limited to the Faculty of Humanities, but affects every humanistic field at the university, including for instance medical history and the history of science.
Staff (for credentials: click on picture)