Computational Linguistics and Digital Learning
Bridging the Gap: Digital Humanities and the Arabic-Islamic corpus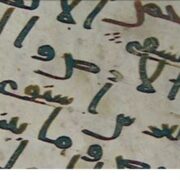 The longue durée analysis of conceptual history in the Islamic world is a largely unexplored field of research. This project seeks  to make pioneering forays into the vast corpus of digitised Arabic texts that has become available in the last decade. This is done along the lines of four case studies, each of which examines a separate genre of Arabic and Islamic literary history (jurisprudence, inter-faith literature, early modern and modern journalism, and Arabic poetry).
Two eScience guest-engineers will be stationed at the Utrecht Digital Humanities Lab to develop a web-based application that will enable easy access to existing Arabic corpora and offer the opportunity for researchers to upload their own corpus Thus we will be able to offer a set of tools for Arabic text mining and computational analysis.
The project will be inserted into two ongoing ERC projects on Islamic intellectual history housed at the Department of Philosophy and Religious Studies at Utrecht University, and collaborate closely with international initiatives in the field of Arabic Digital Humanities.