News and interviews
Temporary move Digital Humanities Lab!!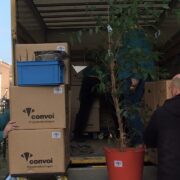 8th of march 2019 (re)construction works start at Drift 10. Therefore, 9th of march 2019 the Digital Humanities Lab has moved to Kromme Nieuwegracht 80, rooms 2.02 and 2.03.
Everything else, like the consultation hours (Wednesdays 10-11 and Thursdays 15-16) remains unchanged.